Slide 1
Building bridges
of communication
Slide 1
We speak well the language
of your customers
Slide 1
We cover
the language needs
of your business from A to Z!
State-of-the-art Language Services
translated words per year
years of experience and creativity
We translate your needs into competitive advantages
Certified quality of service
We know how to express the character of your business with texts of high quality, according to the ISO 17100:2015.
Cost savings
We use qualified translators/copywriters, but also the most up-to-date translation memories whenever needed.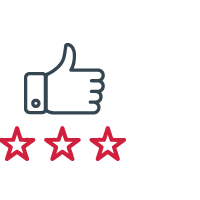 Trust and reliability
We are committed to delivering the best result with absolute consistency in terms of terminology, linguistic excellence and style, within the limits of each deadline.
Experience and expertise
Being graduates of the Department of Foreign Languages, Translation and Interpreting (DFLTI), Ionian University, we are authorized to provide you with validated official translations for all legal purposes.
Translation
High quality translations for technical, financial, legal, promotional, medical content as well as all kinds of official documents.
Transcreation Services
Creatively translated content to communicate products and services in the "language" of your corporate audience evoking the same emotions in the target market as the original message.
Interpreting
Ideally combining the interpreting needs of your organization with full coverage of the technical infrastructure for corporate events, conferences, etc.
Desktop publishing
With partners specialized in the most sophisticated DTP programs, so that your texts
are delivered ready for printing.
Consulting
Designed to optimize costs, processes and results in translation and interpreting projects.
Translation is not a matter of words only: it is a matter of making intelligible a whole culture.
Anthony Burgess, author & translator
"We have been working with ALPHABET for the past 2 years and we feel completely satisfied with their services. From the beginning of our cooperation, the company's professional translators have offered the highest quality of service, treating each project with attention to detail and accuracy. ALPHABET is by our side and supports us, always responding to our requests with immediacy and courtesy. So they definitely deserved to earn our trust and we will continue to work with them in the future. We would highly recommend ALPHABET to anyone in need of specialized translation services. "
"ALPHABET's people are a valuable partner for us at ALTAVIA! As top-notch professionals, they know their work in depth, they understand our needs and always deliver an excellent result in a short period of time, just as our business requires! Thank you so much for this cooperation."
"Highly Professional Partner in specificity, expertise and knowledge related to medical devices in the area of diabetes with excellent output provided always in time and even earlier than that. It saves time to have such partners, since I rarely have to correct the material requested".
Συνεργάζομαι με την Alphabet εδώ και πάνω από 12 χρόνια. Η συνεργασία μας είναι άψογη, πάντα στην ώρα τους με άρτιο, προσεγμένο αποτέλεσμα! Δεν χρειάζεται σχεδόν ποτέ να κάνω διορθώσεις! Η επιστήμη της μετάφρασης στην πράξη! Ευχαριστώ αγαπητή Alphabet για την άψογη συνεργασία μας όλα αυτά τα χρόνια.
Multi-year experience, multi-dimensional services, multi-numbered customers!
For over a quarter of a century, ALPHABET has built long-term relationships of trust with its customers, thanks to the quality and consistency of its services. We take pride in our stable, multi-year partnerships with leading customers from a wide range of market sectors such as:
Memberships and certifications